The Big 6 banks dominate the Canadian mortgage market but may not be the best choice for borrowers.
An analysis from LowestRates.ca has found that, in 2018, Canada's largest banks – RBC, TD, BMO, Scotiabank, CIBC, and National Bank of Canada – were consistently the most expensive options.
Even the lowest rates of the Big 6 were always costlier than the lowest rates from smaller lenders, the study found.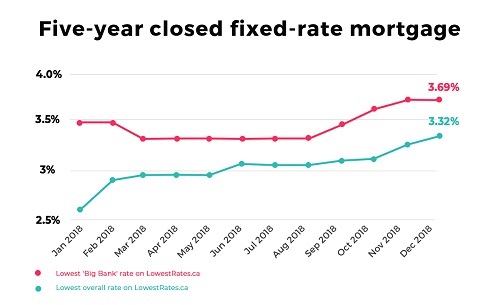 "The big banks never offer the lowest posted rates on the market, but Canadians aren't spending enough time researching rates before signing their mortgages, and that's potentially costing them thousands of dollars a year," said Justin Thouin, CEO and Co-Founder of LowestRates.ca.
He added that Canadians are used to shopping around for the best prices on items such as TVs or vacations but often fail to realise that the same strategy could mean big savings on their mortgage.
How much could borrowers save?
As a typical example, LowestRates.ca found that when RBC lowered its 5-year rate to 3.74%, consumers on that rate would pay $2,560 per month on a $500,000 mortgage (assuming a down payment of at least 20% per cent to avoid CMHC insurance, and a 25-year amortization period).
But the best available rate on LowestRates.ca was 3.23%, saving borrowers $134 per month (with a payment of $2,426) – or a staggering $40,200 over the lifetime of the loan.
"Brokers and smaller lenders often drop their rates first to be more competitive, and banks are slower to implement changes because they know they own the market," Thouin said. "This will only change when Canadians realize they're being overcharged and begin to shift away from the banks, and that will only happen as we increase awareness about the alternative market. The best deals are found online, not in your family's legacy bank branch."
Randall, S. (2019, February 12). Choosing the Big 6 means mortgage customers are overpaying. Retrieved from https://www.canadianrealestatemagazine.ca/market-update/choosing-the-big-6-means-mortgage-customers-are-overpaying-254325.aspx